Responder v9 Update
Our first app in the app stores was the Responder app. At the time, it just had 2 buttons; Responding and Not Responding, how far we have come. We have been working on updating our apps to brand new architectures and platforms. Our first app in this new architecture was our Dispatch app, afterwards we updated the Unit app and now the Responder app. Our last update will be the BigBoard sometime early next year.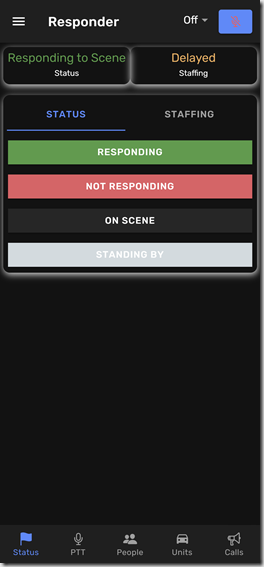 The Responder app hasn't gotten a lot of love in the last couple of years. This has been because we've have been investing a lot in the dispatching side of the system, but we couldn't leave the app not updated for much longer. Fundamentally the feature set is the same as the previous application, but we have been working on improving the user experience, styling and stability.
One major feature we starting to work on in Voice Comms in app (PTT or Push-To-Talk). This feature is still in Alpha stages and we are actively iterating on it. Our goal for this feature is allowing complete replacement of radio services (in areas with a cellular or wifi data connection). There is a lot going into our work on this, you may ask yourself "If the feature is in Alpha why is it in Prod?" but the reasoning is that it allows us to turn the feature on for departments and collect feedback in real-world use cases.
On feature that did drop was Real-Time chat. This feature will make a return, but the backend for it was implemented in a way that does not make it easy for On-Prem users of the open-source solution to utilize it. We apologize that we had to remove the feature in this release, but it will be coming back and be suite wide, not just the responder app.
Now that the Responder app is back on our current development stack you will get updates much quicker. The new v9 Responder app is available on Google Play and we are working with Apple to get it deploy out there shortly.