Announcing Resgrid Dispatch
I'm excited to share with you all a new application we have been working on the last 6 months. Resgrid Dispatch is a dedicated dispatcher oriented application, that allows your dispatchers to easily log in, manage, create calls and control units.
After a lot of feedback and working with a lot of you we came to the determination that the full Resgrid web application is too large and verbose to allow for efficient dispatch operations. Because of this we felt a dedicated, focused application would meet the needs for dispatchers while allowing us to quickly iterate on it and support other scenarios, i.e. Desktop Installations to support E911 (a plan for the future).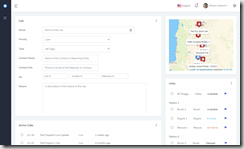 So, how do you get it? Great question. You can log into the Resgrid Dispatch application by navigating to https://dispatch.resgrid.com. The Dispatch app will live as just a web application for now. It's optimized to work on Desktops, Laptops, Chromebooks, Tablets and iPad's. In the future we will deliver it to app stores and as a stand alone Windows Desktop application.
Currently the Dispatch App is in active development and considered a beta. Please don't use it for anything other then testing until it's reached version 1.0.0. You can find the version number on the login page and at the bottom of the dashboard page.