Personnel Mapping and ETA's
Today Resgrid is happy to announce that responding Personnel are now shown in the Big Board Map and that Personnel ETA's are now shown in the Dashboard and BigBoard. On the BigBoard personnel who are responding to a call are show in light red and personnel responding to a station are shown in blue.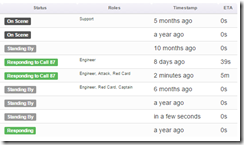 This is our first iteration on these features and we will be working hard on them in the next couple of months. Additionally in our next update of the Responder App you will start seeing ETA's in there as well. ETA's are generated by Google and take into account current driving conditions and other factors to give a fairly accurate estimate. Resgrid will show you the time in seconds and minutes, so you will know if your personnel are 30 seconds out or 5 minutes.
We also worked hard to ensure this feature works with your departments custom statuses. So if you've defined custom resposnes with details of Respond to Station or Call we will pick those up for ETA and display on the Big Board.
Only Responding to Station or Call personnel will have ETA's calculated (as we can determine where they are going) the same goes for custom statuses (where you have the detail set to station or call). Personnel in any response state (Generic Responding, Reponding to Station and Responding to Call) will show up in the big board. As mentioned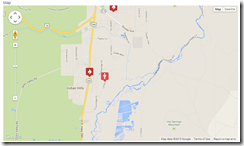 d earlier personnel in a Responding or Responding to Call state are shown on the map as a Red Person maker. While personnel responding to a station are shown in a Blue Person marker. This allows you to easily eyeball personnel on your map and determine who's coming to you and about how far our they are.
These have been some of Resgrid most requested features over the last year and we've been working hard behind the scenes ensuring that the system was capable and ready for this support. We will be rolling these features out to our mobile apps as well over the next little while so you can continue to enjoy Resgrid's cutting edge features on the go.
If you have any feedback for us, requests or issues our door is always open.
Resgrid is a cloud service that provides logistics and communications tools to first responders like volunteer and career fire departments, search and rescue, emergency medical services, public safety, CERT and disaster response. Resgrid is the only service out there giving first responders full cycle control over their departments, personnel, apparatuses and incidents.