Guide: Setting up a New Department in Resgrid
One of your very first experiences with Resgrid will be signing up a new department in the Resgrid system. Only one person in your department needs to set up the department initially. When they do they will create the department that everyone else will join into. This guide will walk you through setting up a new department in the Resgrid system and inviting users into your department. You want to ensure that everyone gets invites to the department and that they don't sign up and create a new department on their own, as then they will be unable to see other users/units/information that is contained in the other department.
Step 1: The very first thing you will need to do is browser to http://resgrid.com and click the Sign Up link in the upper right hand corner.
Step 2: You need to fill out the signup form. Enter in your first and last name in the Full Name box, your username, email address and password. For the "Department or Organization Name" field supply the name of your department. This can be the full name like "Central County Fire Protection District" or be a partial name like "Central County FPD, CCPFD". Department names have to be unique, and we recommend they be short, but meaningful.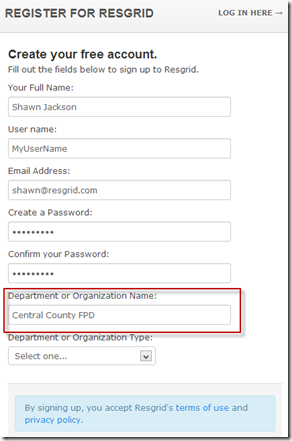 Step 3: Your department is now setup in Resgrid. Now you can invite users into the department by clicking the Personnel link in the right hand menu and selecting the Manage Invites button in the middle of the page.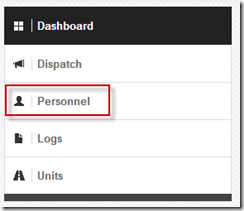 Step 4: On the Manage Invites screen you can enter in the email addresses separated by commas. Your members will get an email that will allow them to create an account for Resgrid.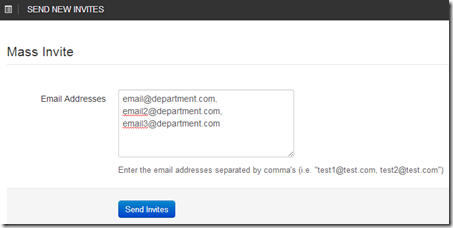 Step 5: Once the invites have been sent you can track their status in the Existing Invites section of the Mange Invites page.

Step 6: In the top right hand corner of the web page once you log into Resgrid you will see 2 menus. 1 will have the name of the department and the other will have your name. These are the Department and User menus and they allow you to manage settings. If you click on the department menu as a Managing Member or Department Admin you will see all the options you can set for a department.
Make sure to check out all the tabs in the Department Settings pages to ensure you have everything set the way you want it.