Resgrid for your Volunteer Fire Department
Volunteer originations have a lot of challenges relating to the nature of their personnel. Coordination of personnel, response to events/incidents, active communications and sharing and dissemination of knowledge and vital information can be challenging.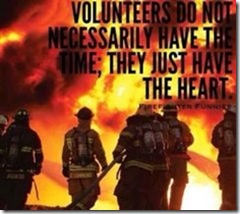 Existing technologies and methods of communicating and coordinating with volunteer forces work, but require giving people expensive technology, using multiple methods (Email, Text Messages, Radio, Mail, etc) and maintaining all that data in different places.
Volunteer Fire Departments, Paid-On-Call and Combination Districts all have the fundamental issue of personnel logistics more so then most other departments. Usually these departments have higher staffing levels, due to the relative low cost of volunteer or paid-on-call personnel these departments normally have more personnel the money or communication equipment.
In addition to just communicating, sharing and storing information can be difficult, requiring multiple systems and methods to store all the types of information. Ever use your email inbox as a way to store door or gate codes or other important information?
How does Resgrid help Volunteer Fire Departments help coordinate their personnel? By enabling department to utilize their personnel's existing mobile devices and having all information easily accessible via mobile application or the web.
Personnel Coordination
Using Resgrid your personnel can monitor what all other personnel are doing, from responding to the scene of an incident, to going enroute to a station to pick up an apparatus. Your personnel can also report their own staffing level, for example (Available, Delayed, Unavailable, Committed, etc) allowing command staff and other personnel to know what personnel are available to respond to an incident.
Apparatus Coordination
Resgrid allows your apparatuses to submit status, read call information, coordinate information in an easy to use manner. Because Resgrid runs on standard over the counter hardware, like Android tablets or iPad's, the cost of adding geolocation, call information, electronic accountability is low. Your personnel can view if an apparatus is in service, out of service for repairs or committed on another assignment. The Resgrid Unit application will also work on smart phones.
Information Sharing
Resgrid allows all your personnel to be stored in one place a short list of what can be managed and controlled all from within Resgrid:
Station Assignment
Roles (like Firefighter, Operator, Captain, EMT, etc)
Certifications or Qualifications
Department Schedule
Notes
Documents (like PDF's, Images, Excel, Word Docs, etc)
Logs and Narratives
Meetings
Because Resgrid is constantly evolving your will be able to track and maintain more and more information your from Resgrid.
Bring Your Own Device
The vast majority of personnel will have a smart phone. Resgrid runs on those mobile phones allowing seamless accesses of your departments information as well and communicating their status, staffing level and responding to dispatch's and incidents.
Utilizing commodity, every day hardware keeps Resgrid's cost down, allows it to work on the vast majority of hardware in many conditions (Online and Offline). In addition to Phones, Resgrid applications work on all major tablets and Windows computers.
Cloud platform
Resgrid runs on the cloud, so there is no hardware to buy, not large purchases, no contacts or IT staff to hire. Also there is no additional workload. Resgrid updates every week and it monitored and maintained by Resgrid 24/7.
3rd Party Support/Open API
We at Resgrid firmly believe in sharing information and integrating with 3rd parties and legacy systems. Because of these Resgrid as an open API that allows anyone to build applications or integrate Resgrid with any system, for example a CAD system or records management system.